"Mobile Suit Gundam: Iron-Blooded Orphans" Begins This October
Posted by : nydia
26 jul. 2015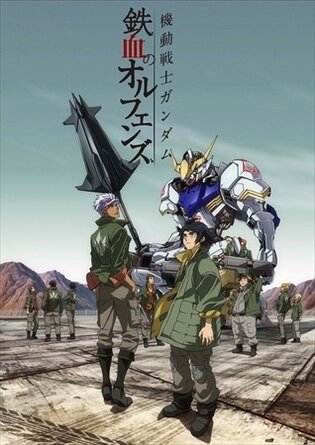 The newest installment in the popular
Gundam
series was announced on July 15. The title of the anime,
Mobile Suit Gundam: Iron-Blooded Orphans
(Kido Senshi Guhndam: Tekketsu no Orphans), a key visual, characters, mobile suits, and details on the story were all released. The broadcast will start Oct. 4.
Iron-Blooded Orphans expands the story that focuses on the human drama of theGundam series, and, with its theme being boys maturing into adulthood, will give rise to a new generation of Gundams.
Six characters have been revealed: main character Mikazuki Augus, Orga Itsuka, Biscuit Griffon, Eugene Sevenstark, Akihito Altland, and Nolba Shino. As for the mobile suits, two have been revealed: Gundam Barbatos and Glaze.
The staff is a wonderful lineup of talent. The anime is being created by director Tatsuyuki Nagai and series composer Mari Okada, the tag team behind Oreimo. Others on the staff include original character designer Yu Ito, creator of the manga Imperial Guards and Shut Hell, and character designer Michinori Chiba of Mobile Suit Gundam 00 and Mobile Suit Gundam Age fame. The mecha designers are Naohiro Washio, Kanetake Ebikawa, Ippei Gyobu, Kenji Teraoka, and Tamotsu Shinohara.
The first broadcast of the anime will be at 5:00 p.m. on Sunday, Oct. 4 on all 28 MBS and TBS networks throughout Japan. Gunpla will also be announced successively beginning in October, and even broader media development is expected for the series. Keep it here for more follow-up reports to come.